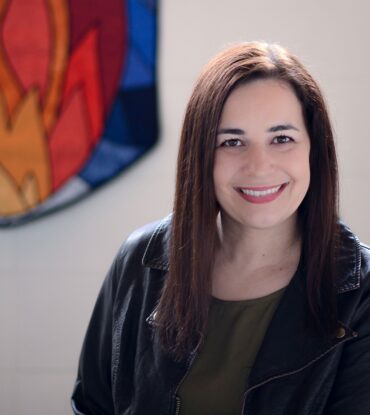 Pastor Cassie Nault began her ministry with the Crossroads Parish in April of 2019. Earlier that year, the congregations of Atonement and Cross of Glory had voted to join together in calling a pastor to serve at both churches. The vision was to share resources, working together to reach out to the local community: welcoming people into worship, faith formation opportunities, and Christian community. Pastor Cassie's gifts for connecting people have come in handy in this partnership and she is happy to be leading this collaboration in the north suburban community she's called home for over 15 years.
Ordained in 2008, Pastor Cassie has her Bachelor's Degree from the University of Minnesota and her Masters of Divinity degree from Luther Seminary in St. Paul. She also holds a certificate in Youth Ministry from Luther Seminary. Previous to her work with Crossroads, she served churches in Champlin, Minneapolis, St. Paul, and West St. Paul. Her favorite part of her work is to connect people's faith to their daily lives, with creative worship, preaching, and teaching. Intergenerational community is at the center of her work: reminding people of all ages "We belong to God and we belong to one another."
Outside of church activities, Pastor Cassie enjoys traveling, hiking, gardening, and weekly family movie night with her husband, 3 sons, and chocolate lab.