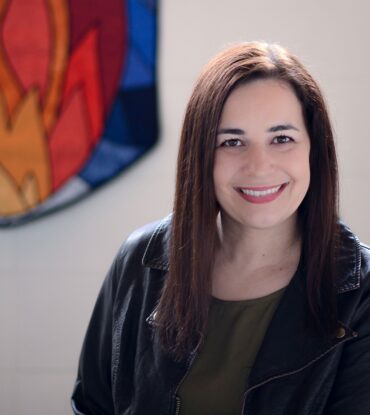 Rev. Cassie Nault, Pastor
Pastor Cassie Nault began her ministry with the Crossroads Parish in April 2019. Earlier that year, the congregations of Atonement and Cross of Glory had voted to join in calling a pastor to serve at both churches. The vision was to share resources, work together to reach out to the local community: and welcome people into worship, faith formation opportunities, and a Christian community. Pastor Cassie's gifts for connecting people have come in handy in this partnership. She is happy to be leading this collaboration in the north suburban community she's called home for over 15 years.
Ordained in 2008, Pastor Cassie has her Bachelor's Degree from the University of Minnesota and her Master of Divinity degree from Luther Seminary in St. Paul. She also holds a certificate in Youth Ministry from Luther Seminary. Previous to her work with Crossroads, she served churches in Champlin, Minneapolis, St. Paul, and West St. Paul. Her favorite part of her work is connecting people's faith to their daily lives, with creative worship, preaching, and teaching. Intergenerational community is at the center of her work: reminding people of all ages "We belong to God and we belong to one another."
Outside of church activities, Pastor Cassie enjoys traveling, hiking, gardening, and weekly family movie night with her 3 sons, and puppy.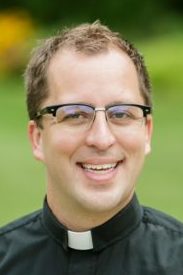 Deacon Brad Mills
Originally from New Brighton, MN, Deacon Brad has also been a Mounds View resident since 2008. Prior to Cross of Glory & Atonement Lutheran, Deacon Brad worked as a Deacon at Abiding Savior and a Director of Youth Ministry for Our Saviour's Lutheran Church in East Bethel, MN. Deacon Brad holds two Master's degrees (M.A. in Theology and Master of Divinity), one from Bethel Seminary and one from Luther Seminary, St. Paul.
When he's not at church, you might find Deacon Brad at State Farm Insurance in Edina (full-time day job), out on his canoe, brewing beer, cycling, or maybe out on a walk with his wife, Karen, and their dog. Karen works full-time as an Attorney Editor at Thomson Reuters and loves writing and reading. Deacon Brad and Karen have three beautiful daughters named Helena, Iva, and Nora who are the love of their lives.
Deacon Brad has been at Cross of Glory & Atonement since November of 2022. Deacon Brad was ordained on November 15th, 2020 as a Deacon – Minister of Word & Service in the ELCA. Deacon Brad is under a permanent letter of call for part-time (15hrs/week) ministry work. Deacon Brad loves to talk about Liberation Theology and see where the church and the world connect and how God reaches those on the fringe of society.