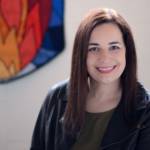 Pastor Cassie Nault
Minister of Word and Sacrament
(763) 784-2528
Email Pastor Cassie
Dear Siblings in Christ,
It feels cooler than it should this time of year: however, memory isn't always reliable, because as my Xcel Energy bill tells me, it's actually 2 degrees warmer this month on average than it was last year. Who knew?
Turns out, our memories are often a little fuzzy on these matters: we think it shouldn't snow in April…and then we look back and realize it often has snowed in April over the past decade. Us humans, at times, can be forgetful.
This is partially why we continue to tell the same stories on repeat: every 3 years, we hear the same stories of Jesus. We follow the "Revised Common Lectionary," along with many other mainline Protestant churches and the Catholic Church. And we remember together the reasons we follow Jesus. It is for that reason that we have started new traditions–one of which is our annual Blessing of the Bicycles: a way for us to remind ourselves and others that wherever we go, God is with us.
In this season, though it is cold, we bring out our bicycles, our scooters, our walkers, our wheelchairs, and our strollers, so that we might get out in God's creation and enjoy the nature that surrounds us. So, coming up, we will be hosting a Blessing of the Bicycles (and whatever other wheels you'd like blessed). This year it will be taking place at the New Brighton Lion's Park Playground Tuesday, May 9th from 5-6pm. Remember to invite friends and neighbors to join us. In previous years, some people biked to the event, while others drove in and took their wheels out to be blessed. It's not a formal service, it's just a stop by and get blessed by Deacon Brad or Pastor Cassie. We look forward to seeing you!
In Christ,
Pastor Cassie